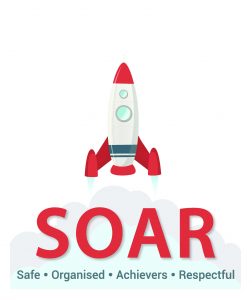 At Brookton District High School we are committed to changing the way we educate our students. We believe in Positive Behaviour Support (PBS) which is a whole school framework which helps schools create positive learning environments. This is achieved by developing proactive systems to define, teach and support appropriate student behaviours.
The 5 core expectations for positive behaviour at Brookton DHS are;
Safe
Organised
Achievers
Respectful
These core expectations are symbolised in our PBS logo and outlined, in explicit detail, in our Behaviour Expectation Matrix.
Our PBS Logo was designed in collaboration with our students.
Our Behaviour Expectation Matrix assists us to:
Actively teach students the behaviour we want to see
Reward students for positive behaviour
Raise expectations
Promote a learning culture
Hold everyone in the school community accountable for the development of a positive learning environment
To view our Behaviour Matrix download a copy here – Behaviour Matrix (April 2018)
School Times
| | |
| --- | --- |
| School Day Commences | 8.45am |
| Recess | 10.40am to 11.00am |
| Lunch Bell | 12.40pm to 1.20pm |
| School Day Ends | 3.10pm |
| Monday early close | 2.40pm |
Read more